hosted by:

1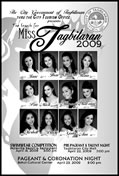 1

1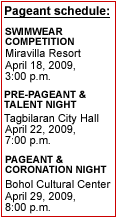 1
Miss Tagbilaran through the years...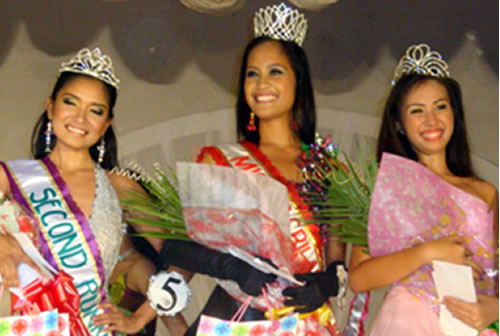 Sweet smiles of victory. Newly-crowned Miss Tagbilaran 2009 Daisy Jean Quilicot (CVSCAFT), center, with second runner-up Mary Paulaine Magallanes of Cogon (left) and first runner-up Meshellane Real Jade Cajels of Budz and Bagz Boutique (right) after the pageant. The three ladies were also the top three in the swimsuit competition at Miravilla Resort. (Photo by Charize B. Lomotos)
CVSCAFT BEAUTY IS MISS TAGBILARAN 2009
By: Fiel Angelie E. Araoarao-Gabin
Finally, the waiting is over. In the well-attended search for Tagbilaran's fairest this year, Daisy Jean Quilicot, the towering morena beauty from the Central Visayas State College of Agriculture, Forestry and Technology (CVSCAFT), proved that not only is height an advantage, but grace, poise, confidence, and, indeed, a positive outlook, ushering her way to the Miss Tagbilaran 2009 crown. Earlier, in the swimsuit competition at Miravilla Resort last April 18, Quilicot was a real head-turner with her perfect hour-glass curve which gave her the Best in Swimsuit award.
Read Full Story


Read the latest news in Bohol


1

1

1